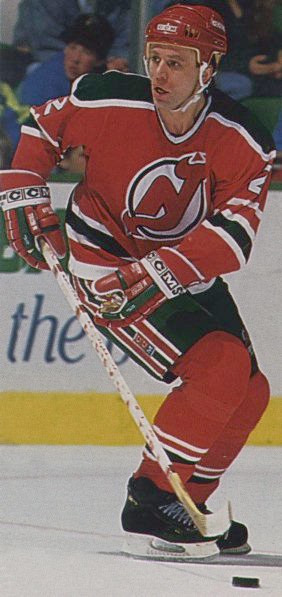 Position: defenseman
Shoots: L
Height: 6-01 Weight: 200
Born: 4/20/1958 in Moscow, USSR
NHL Draft: Selected by the Montreal Canadiens in 1978 #201 overall
Olympic medals: 2x Gold (1984, 1988); 1x Silver (1980)
World Champion: 7x (1978, 1981, 1982, 1983, 1986, 1989, 1990)
Junior World Champion: 2x (1977, 1978)
Canada Cup Winner: 1x (1981)
Winner SSSR Championship: 13x
Stanley Cup: 2x (1997, 1998)

Awards:

All-star Team World Championships: 8x (1978, 1982, 1983, 1985, 1986, 1989, 1990, 1991)
All-star Team Canada Cup: 1x (1987)
Video
Biography [Source: www.geocities.com/e_ouzikov] There are many reasons why Slava Fetisov is a hero of our era. His life story doesn't just make him one of the best hockey players ever, but a great person and leader too. In 1976, Slava was a sensation in his first season in the Soviet League with CSKA. Slava was 18 years old, standing 6-foot-1 and weighing 220 pounds. A year later, he got a mysterious disease and was paralyzed waist down, losing 45 pounds. The doctors said he'd be lucky if he would ever walk again, but 5 months later, with pain, Slava took to the ice. At the World Juniors in 1978, Slava was named Best Defenseman, and his performance was good enough for him to drafted by the Montreal Canadiens, who later dropped Fetisov. All those world championships were the beginning of the Fetisov-Gretzky battles. In early 1982, Fetisov was named the captain of both the Red Army team and the national squad. Fetisov felt great responsibility, and pain inside, being surrounded by the tragedies of superstar Valeri Kharlamov's death and the embarrassment at the Lake Placid Olympics. Being on a team that hadn't lost for 39 straight games, and then losing one game, many players showed their discouragement, but not Fetisov. The Soviets' 1984 Olympic win in Sarajevo was a highlight in Slava's career. Then tragedy hit again: Fetisov broke his leg, making him unavailable for the 1984 Canada Cup, and the next year Slava was in a car crash, leaving Slava's brother, Anatoli, killed. Fetisov was a man who refused to sign up for the Communist Party, being one of the first to take such a stand. By 1989 Fetisov was tired of coach Viktor Tikhonov and wanted to defect, but his teammates wouldn't play without him. Back in Moscow, Fetisov was under KGB surveillance, but managed to get a ticket to New Jersey, being the first Soviet citizen to receive a visa for open travel, opening the doors for everyone else to follow. This was definitely a personal victory for Fetisov. Being in New Jersey, Slava felt lost, unwelcome, exhausted and lonely. In his first two months with the Devils, Fetisov lost more than in his entire career with the national team. Being traded to Detroit in 1995 to be part of the Red Wings' 'Russian Five' - himself, Fedorov, Kozlov, Konstantinov and Larionov, Fetisov won a Stanley Cup in 1997. The celebration was short. Another tragedy occured. Fetisov was in the limo that crashed into a tree and left teammate Vladimir Konstantinov and Wings' trainer Sergei Mnatsakanov with brain damage. Fetisov lost feeling of his right leg, but played one more season and won the Stanley Cup again. After retiring, Fetisov was an assistant coach for the Devils from 1998 to 2002. He was the head coach of Russia at the 2002 Olympics, leading the team to a bronze medal. After that, he returned to Russia to accept a government post as Minister of Sport. Fetisov is truly a legend, a hero of humanity. A teammate died, his brother died, his every move was followed by the KGB, he fought for freedom, battled loneliness in a foreign land, two more friends were left paralyzed for life... but Fetisov countered that with two Olympic gold medals, two World Junior Championships, seven World Championships, nine Soviet all-star berths, nine USSR 1st team honors, thirteen Soviet League championships, three European Player of the Year awards, two Stanley Cups, and the respect of millions.
Statistics
USSR Championships
Regular Season / Playoffs
Season
Team
GP
G
A
Pts
PIM
1975-76
CSKA Moscow
1
0
0
0
0
1976-77
CSKA Moscow
28
3
4
7
14
1977-78
CSKA Moscow
35
9
18
27
46
1978-79
CSKA Moscow
29
10
19
29
40
1979-80
CSKA Moscow
37
10
14
24
46
1980-81
CSKA Moscow
48
13
16
29
44
1981-82
CSKA Moscow
46
15
26
41
20
1982-83
CSKA Moscow
43
6
17
23
46
1983-84
CSKA Moscow
44
19
30
49
38
1984-85
CSKA Moscow
20
13
12
25
6
1985-86
CSKA Moscow
40
15
19
34
12
1986-87
CSKA Moscow
39
13
20
33
18
1987-88
CSKA Moscow
48
18
17
35
26
1988-89
CSKA Moscow
23
9
8
17
18
USSR Totals
481
153
220
373
374
National Team
Tournament
GP
G
A
Pts
PIM
1977
World Championship
7
3
3
6
2
1978
World Championship
10
4
6
10
11
1980
Olympic Games
7
5
4
9
10
1981
World Championship
8
1
4
5
6
1981
Canada Cup
7
1
7
8
10
1982
World Championship
10
4
3
7
6
1983
World Championship
10
3
7
10
8
1984
Olympic Games
7
3
8
11
8
1985
World Championship
10
6
7
13
15
1986
World Championship
10
6
9
15
10
1987
World Championship
10
2
8
10
2
1987
Canada Cup
9
2
5
7
9
1988
Olympic Games
8
4
9
13
8
1989
World Championship
10
2
4
6
17
1990
World Championship
8
2
8
10
8
1991
World Championship
10
3
1
4
8
1996
World Cup
4
0
2
2
12
National Team Totals
(including other tournaments)
313
95
---
---
---
NHL
Regular Season
Playoffs
Season
Team
GP
G
A
Pts
PIM
GP
G
A
Pts
PIM
1989-90
New Jersey Devils
72
8
34
42
52
6
0
2
2
10
1990-91
New Jersey Devils
67
3
16
19
62
7
0
0
0
15
1991-92
New Jersey Devils
70
3
23
26
108
6
0
3
3
8
1992-93
New Jersey Devils
76
4
23
27
158
5
0
2
2
4
1993-94
New Jersey Devils
52
1
14
15
30
14
1
0
1
8
1994-95
New Jersey Devils
4
0
1
1
0
--
--
--
--
--
1994-95
Detroit Red Wings
14
3
11
14
2
18
0
8
8
14
1995-96
Detroit Red Wings
69
7
35
42
96
19
1
4
5
34
1996-97
Detroit Red Wings
64
5
23
28
76
20
0
4
4
42
1997-98
Detroit Red Wings
58
2
12
14
72
21
0
3
3
10
NHL Totals
546
36
192
228
656
116
2
26
28
145